MAJOR ANNOUNCEMENT! GUN CRAFT BEER IS NOW AVAILABLE FOR ONLINE PURCHASE!
CONGRATULATIONS To all the LUCKY 34 States who can purchase our Exceptional Brews online!
AVAILABLE NOW are our Variety 12 Pack of 3 of Each of our Brews at $ 3.50 per can plus shipping/adult signature fee. TO PURCHASE VISIT: http://www.20westwine.com/
UNFORTUNATELY WE CANNOT Legally ship alcohol to the following states but if you have family member or friend that lives in nearby state maybe they can help you out and make the purchase and get our Brews to you however...? (None Of Our Business)
CHEERS! SALUTE THE RED, WHITE & BREW! FREEDOM YOU CAN TASTE!
Alabama
Arkansas
Delaware
Kentucky
Massachusetts
Maryland
Minnesota
Mississippi
Montana
New Jersey
Oklahoma
Pennsylvania
Rhode Island
South Dakota
Texas
Utah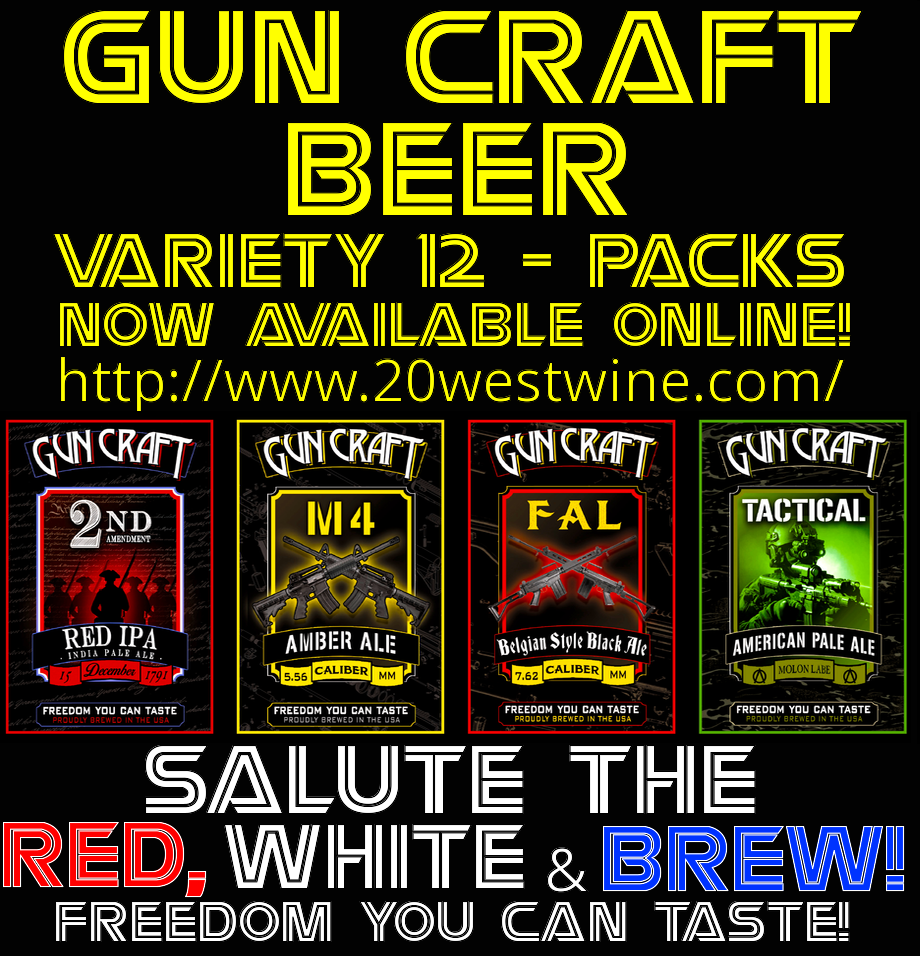 WHERE CAN YOU BUY CARRY OUT GUN CRAFT BEER?
20 WEST WINE
20 W St Charles Rd
Lombard, IL 60148
(630) 629-4600
https://www.facebook.com/20WestWine/?fref=ts
ALGONQUIN TOBACCO & LIQUOR
1117 S Main St.
Algonquin, IL 60102
(847) 458-7979
https://www.facebook.com/algonquinfoodandliquor/
ARMANETTI'S FINEST WINE - SPIRIT
521 S Schmale Rd.
Carol Stream, IL 60188
(630) 653-1690
https://www.facebook.com/pages/Armanettis-Finest-Wines-Spirits/141854045850423/
ARMANETTI WINE, BEER & SPIRITS
9714 Route 47
Huntley, IL 60142
(815) 515-8413
https://www.facebook.com/Armanetti-Fine-Wine-Spirits-187028908022495/
ARMANETTI WINE, BEER & SPIRITS
1550 S Eastwood Dr
Woodstock, IL 60098
(815) 338-4330
https://www.facebook.com/Armanetti-Wines-and-Spirits-Woodstock-IL-129274240466625/
BINNY'S BEVERAGE DEPOT - ALGONQUIN
844 South Randall Rd.
Algonquin, IL 60102
(847) 458-2470
https://www.facebook.com/pages/Binnys/319475674801181
Binnys Beverage Depot - ELMWOOD PARK
7330 W. North Ave.
Elmwood Park, IL 60707
(708) 456-2112
https://www.facebook.com/pages/Binnys-Beverage-Depot/399447983597884
Binnys Beverage Depot - LAKE ZURICH
975 S. Rand Rd.
Lake Zurich, IL 60047
(847) 438-1437
https://www.facebook.com/BinnysBevLakeZurich/
Binny's Beverage Depot - MONTGOMERY
1150 W Ogden Ave.
Montgomery, IL 60538
(630) 270-1794
https://www.facebook.com/BinnysBev/
BINNYS BEVERAGE DEPOT - NILES
8935 N. Milwaukee
Niles, IL 60714
(847) 966-2300
https://www.facebook.com/BinnysBev/
BINNYS BEVERAGE DEPOT - RIVER GROVE
3121 Thatcher
River Grove, IL 60171
(708) 456-7400
https://www.facebook.com/pages/Binnys/210803532375448
Binny's Beverage Depot - SCHAUMBURG
323 W. Golf - Golf Point Plaza
Schaumburg, IL 60195
(847) 882-6000
https://www.facebook.com/pages/Binnys/217460625073046
BINNY'S BEVERAGE DEPOT - ST. CHARLES
1950 Lincoln Hwy.
St Charles, IL 60174
(630) 377-1671
https://www.facebook.com/BinnysBev/
BITTER POPS
3345 N Lincoln Ave #102
Chicago, IL 60657
(773) 857-7677
https://www.facebook.com/Bitter-Pops-1440697586180650/
Bottles and Cans
4109 N Lincoln Avenue
Chicago, IL 60618
(773) 857-2270
https://www.facebook.com/Bottles-and-Cans-155342541256079/
BOTTLES LEMONT
439 Talcott Avenue
Lemont, IL 60439
(630) 243-0233
https://www.facebook.com/bottleslemontIL/
Angelo Caputo's Fresh Markets - ADDISON
510 W. Lake Street
Addison, IL 60101
(630) 543-0151
https://www.facebook.com/pages/Caputos/189365914421270
Angelo Caputo's Fresh Markets - CAROL STREAM
550 E. North Avenue
Carol Stream, IL 60188
(630) 480-8200
https://www.facebook.com/AngeloCaputos/
Angelo Caputo's Fresh Markets - ELMWOOD PARK
2400 N. Harlem Ave.
Elmwood Park, IL 60707
(708) 453-0155
https://www.facebook.com/pages/Angelo-Caputos-Fresh-Market/180856671938792
Angelo Caputo's Fresh Markets - HANOVER PARK
1250 Lake Street
Hanover Park, IL 60133
(630) 372-2800
https://www.facebook.com/pages/Caputos-Fresh-Markets/152721901408202
Angelo Caputo's Fresh Markets - NAPERVILLE
3115 111th Street
Naperville, IL 60564
(630) 579-3300
https://www.facebook.com/pages/Caputos-Fresh-Market/144052775625368
Angelo Caputo's Fresh Markets - SOUTH ELGIN
622 Randall Road
South Elgin, IL 60177
(847) 289-0600
https://www.facebook.com/pages/Caputos-Fresh-Markets/137707036271762
Cork Keg & Spirits
1000 E 31st Street
La Grange Park, IL 60526
(708) 998-2838
https://www.facebook.com/CKSLP/
Cork Keg & Spirits
1603 N Alpine Road
Rockford, IL 61107
(815) 986-3854
https://www.facebook.com/corkkegspirits/
CHURCH STREET BREWING COMPANY - TAP ROOM
1480 Industrial Dr, Ste C
Itasca, IL 60143
(630) 438-5725
https://www.facebook.com/ChurchStBrew/
FAMOUS LIQUORS
105 E Roosevelt Road
Lombard, IL 60148
(630) 629-0330
https://www.facebook.com/LombardFamousLiquors/
GARFIELD'S BEVERAGE WAREHOUSE - CRYSTAL LAKE
320 S Virginia St
Crystal Lake, IL 60014
(815) 459-4050
https://www.facebook.com/garfieldsbevcl/
GARFIELD'S BEVERAGE WAREHOUSE - BARRINGTON
340 W Northwest Hwy
Barrington, IL 60010
(847) 387-3676
https://www.facebook.com/GarfieldsBeverage/
GARFIELD'S BEVERAGE WAREHOUSE - PALATINE
15 S Brockway St.
Palatine, IL 60067
(847) 359-0400
https://www.facebook.com/CardinalPalatine/
MALLOY'S FINEST LIQUORS
580 Roosevelt Road
Glen Ellyn, IL 60137
(630) 469-4660
https://www.facebook.com/malloysfinest/
Otter Creek Wine & Spirits
250 S Randall Road
Elgin, IL 60123
(847) 931-2950
https://www.facebook.com/ottercreekwineandspirits/
QUICK PICK LIQUORS
SAL'S BEVERAGE WORLD - ADDISON
434 W. Lake St.
Addison, IL 60101
(630) 543-0440
https://www.facebook.com/SalsBeverageWorld/
SAL'S BEVERAGE WORLD - ELMHURST
695 W. St. Charles Rd.
Elmhurst, IL 60126
(630) 833-9800
https://www.facebook.com/SalsBeverageWorld/
SAL'S BEVERAGE WORLD - VILLA PARK
298 A W Roosevelt Rd.
Villa Park, IL 60181
(630) 279-1990
https://www.facebook.com/SalsBeverageWorld/
WORLD OF BEER - NAPERVILLE
1727 Freedom Drive
Naperville IL 60563
(630) 955-0399
https://www.facebook.com/wobnaperville/